Global Moderator
Posts: 9764
Joined: 16 Sep 2005, 15:46
Location: Victoria
---
Emerald Member
Posts: 6212
Joined: 08 Jul 2013, 18:47
Location: potting shed
The vostok ice cores from antartica show repeated cycles of heating and cooling.
Massive changes in temperatures over 400,000 years. Ice ages.
When the ice melts there are floods, - massive dam walls of ice can suddenly break
Just like in that kids movie .
There is evidence that the cycle of massive floods that repeated many times in north america.
This chart below shows the massive repeated cycles that have occurred over the past 400,000 years.
Most of the time the planet has been bitterly cold. we are on top of a warm spike right now.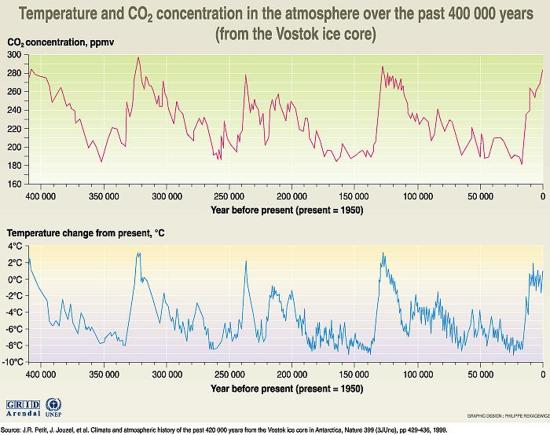 ---
Global Moderator
Posts: 9764
Joined: 16 Sep 2005, 15:46
Location: Victoria
Yes, Buck. It's just an unusual thing that humans are here now, speeding up and exacerbating the effect. It's never happened so fast, no time for species adaptation. Sure, the Earth will survive, and hopefully enough humans to carry on knowledge down future generations. I wonder if the expected ice age will be warmer or colder than past ones, because we have meddled?

The graphs of course are from 1950. How much change has there been in the meantime? The rate has increased dramatically.
---